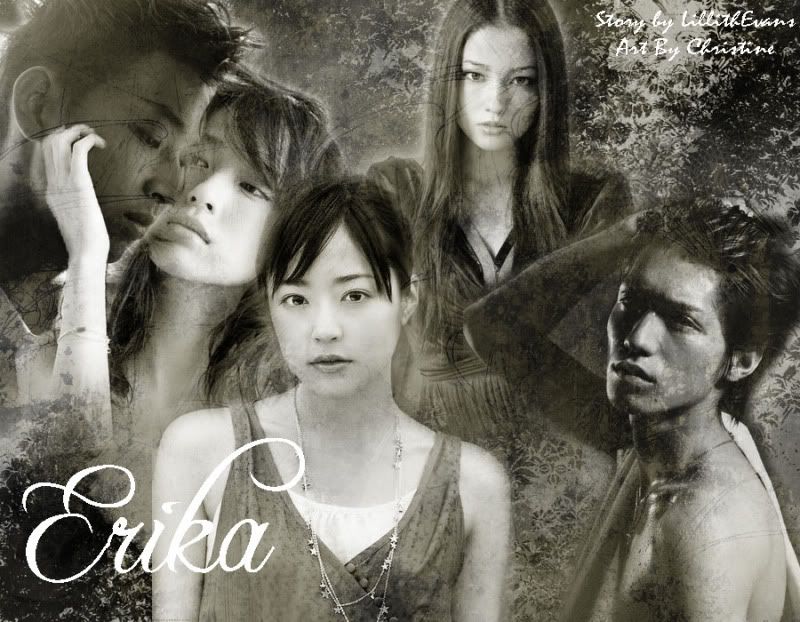 One Year Later

"MOM! MOM COME HERE!" Erika screamed as she took in her baby in front of her. Her baby who was smiling at her like absolutely everything was right in the world. Her baby who was two seconds away from jumping up and down and falling flat on her face.

"Your mom isn't here but I am." Meisa said from the door smiling at her best friend who immediately seeing her lit up with the smallest of smiles and came over to her and hugged her.

"Meisa, Mao just walked. Mao walked Meisa! Mao took her first steps into getting older and wiser and more mature and-"Erika ran over to her daughter and scooped up the indignant girl in her arms. The moment Mao saw Meisa and recognized the female she held her hands out towards Meisa who smiled at the little baby and took her into her own arms. Erika could hardly control her tears. "I still can't believe it."

Meisa scoffed for a second. "Please with this one? You have nothing to worry about!" She played with her god daughter's hands who was giggling happy. "She's going to go marching through life without a look behind huh? She's going to be the most beautiful wanted girl. I'm not worried about this little one. The girl I am worried about in this family is you Erika." Meisa turned to look at her best-friend at this point who looked back at her with a confused expression evident on her face. "You haven't been out of the house for a year now. You haven't done anything to even move on from Jin even if you've sent him the divorce papers. Come on Erika…at the very least if you're separating from him you should get back out there. What happened to the young girl who was as frivoulous as me?"

Erika couldn't help but take offence to her best friend's words as she glared at her. "Excuse me Meisa, I'm sorry if you don't understand because you're too busy with certain leaders." She gave her a pointed look on the subject of her father but of course repeated none of it. They had been together for so many years now she was shocked at how pathetic Meisa was being. "I became a mother. My priority is my daughter. Not any stupid party." She reached out to grab Mao who started crying as soon as she was in her mother's arms. Though it was probably the way Erika was clutching onto her tightly the way she was to her excuse.

Meisa saw right through it though. She never let comments like that affect her, not after close to five years with Takuya, "Say what you want to say Erika. Even Mao knows you're ridiculous. Jin's going to send the papers in soon. He's not coming back Erika. He left you in that hospital room. You were alone. He made that decision."

Erika didn't know how to let Meisa know the details. She hadn't told any of her family or friends that she had pushed him to leave. She knew that now, she was trying to wait it out as much as she could. She believed in him, she really did. He would come back for her.

What she didn't believe was that he hadn't written to her, or even sent a stupid cheque she wouldn't cash for their daughter. He had not even attempted to restore communication since she'd sent him the papers. She didn't know if this was a good thing or a bad thing.

"I have tickets…tonight. They're Death and the Maiden with Shota. It's the first time he's done work since his first play as he's been busy with his own son Jun, politics and his wife. It's rumored to be a hit."

Erika's breath hitched in her throat and she felt Mao's fingers brush across her arm as if trying to comfort her. Erika gave a small smile to her baby and walked towards the crib to set her down. "I can't leave Mao alone tonight."

"You can and you will." Nao walked upto them and Meisa and her exchanged a quick look before she continued to her daughter. "Erika. You are going to that play. At the very least you'll get some time away from your daughter which can be a good thing you know," Her look was so pointed that Erika was forced to wonder if her mother wanted time away from her.

"Mom you can't possi-"

"No. I think you need to stop this Erika, you need to stop pretending like Mao's world and yours is going to come crashing down if you don't spend every waking moment with her. Enough is enough. You're going out tonight and that's the end of it." Nao walked over to her granddaughter's crib and the baby and her exchanged quick smiles before she turned back to look at her daughter. "Am I understood?"

------------------------------------------------------
"I don't think I'm dressed appropriately." Meisa had fashioned her into a beautiful blue pixie dress that reached below her knees. Erika wasn't too fit anymore since the pregnancy so she didn't fit into it all that perfectly but it was just a play and it would be dark so she supposed it didn't matter. It was baggy and loose and the straps fell off her shoulders easily.

It was just the idea of seeing Shota since she'd been through so much. Her entire life had changed. Every time she met him her life changed.

------------------------------------------------------------------------------

Erika had read the play in school and she was completely engrossed as she watched the last scene get acted out in front of her. Shota had been battered and beat by the actress on stage who was playing Paulina.

"Tell me you sick fuck. TELL ME IT WAS YOU THAT DID THAT TO ME." She pointed the revolver at Shota who was tied to the chair as Roberto.

"Paulina!" As her husband made the move to stop her she turned the gun on him.

As the room blacked out the sound of a gunshot echoed past the audience and Erika yelped, a hand leaping to jump onto her chest as she felt the tears stain her eyes. Paulina was a woman affected by the trials and tribulations Chile had gone through but recently with the political plight Erika felt herself crying as she felt the hard body of a man slip into the seat beside her.

"I didn't think you'd actually come when I gave Meisa the tickets." She jumped as she felt a familiar voice creep up her neck. He was leaning so close to her that when she turned to look at him she was sure she felt his breaths fall directly onto her lips. His voice was low and soft…and while it was probably because of the fact that he was still supposed to be acting her head imagined it was because she'd had that effect on him. "I'm happy to see you here."

Erika couldn't respond as the lights turned on and she saw that a mirror had been placed strategically in front of the audience and she flipped to turn to look beside her and the empty seat had been filled by a man that was looking fixedly at the mirror. He was surrounded by a white phantasmagoric light that outlined his face beautifully. His eyes were drifting towards somewhere else and Erika felt her eyes move past his magnetic presence to look at what had captured her favorite actor's attention.

Paulina was staring back at him while Gerardo spoke slowly to say something or the other but Erika felt her irises water as she watched Shota and the actress stare at each other under their eyes, words unspoken, thoughts not thought, just presences…existence.

Shota looked positively heavenly as if he wasn't real anymore.

And then the lights turned on again and Erika couldn't hold the tears back as they flowed down her cheeks.

She was surprised when she felt his hand clasp around hers. "Don't cry," His hands were warm and comforting in a way that Erika had to immediately remind herself to pull her hand back. "Come meet me at the back in thirty minutes okay? I want to talk to you. I'll wait…I won't leave till you come."

She gulped. And then within seconds he was back on in front of the stage, the mirror moved as the three aligned themselves proportionally and she couldn't help but feel like Shota was staring right at her even if the lights behind her were probably blinding him.